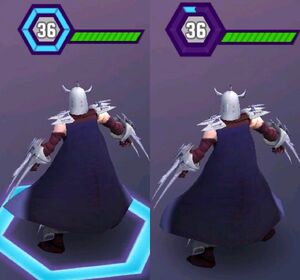 Focus Meters determine when a character's turn begins in combat. The Focus Meter surrounds characters' current level icon and health bar in battle above the characters' heads. The Focus Meter moves in a circular path and travels at certain speeds depending on its character's stats and what effects are casted.
When the Focus Meters fills all the way, it becomes the player's turn in battle.
When a Speed Up effect is casted, Focus Meters travel much faster. When a Speed Down effect is casted, Focus Meters travel at a more slower rate.
Some characters have the ability to reduce Focus Meters such as April O'Neil and Casey Jones (Movie) while other characters such as Shredder and Michelangelo (LARP) have the ability to raise allies' Focus Meters in combat.
Community content is available under
CC-BY-SA
unless otherwise noted.